Choose the blue window!
77 Series 6-channel Mill
70 Series 5 Channel Channels
Series 60 Mill 4 Channel
Single-slider series and pair of slider rails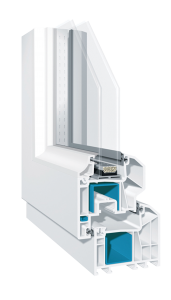 These profiles are polished, white, and also have full strength.
– Suitable for any decoration with decorative drumming and tuning.
– Protects you from dust, rain and pollution due to the double-walled tire and three-layer tires.
– Due to its single-wall, two-wall and three-wall mounting capability, your environment is protected from noise pollution in the city.
– It has special settings to prevent all kinds of theft.
Due to its smooth and smooth surface, it is easy to clean and also due to its anti-static properties it hardly gets dust.
– This profile is designed to be easy to open and close.
– This profile consists of standard raw materials in accordance with world standards and a remarkable service life and also has a 10 year warranty.
***
Dimensional stability
Luxury and modern
Thermal transfer coefficient Uf = 1.3w / m2k
Resistant to severe winds
Ability to install multi-wall glass
Suitable for high magnification
Reliable profile for large windows
PICTURE